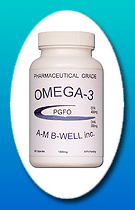 1000 mg capsules.
90 capsules/bottle.


Highly Concentrated!
Highly Purified!
Optimum Ratio of EPA to DHA!
A-M B-Well™ Omega-3 PGFO is a highly concentrated fish oil derived from ultra-refined, molecularly distilled fish oil. Each 1,000 mg. capsule contains a minimum of *400 mg. of EPA and *200 mg. of DHA (both as triglyceride, TG), for a summed minimum total of 600 mg. of Omega-3s per capsule. The remaining 400 mg. is made up of glycerin, purified water, and 10 I.U.s of Vitamin E for oxidative stability. Our pharmaceutical grade fish oil has been purified using advanced molecular distillation to make it virtually contamination-free of PCB's, mercury, dioxins, and furans, often present in related products containing Omega-3 fatty acids.
* The 400 mg of EPA and 200 mg of DHA is often expressed as a 40:20 EPA/DHA product in parts per 100.
A-M B-Well™ Omega-3 PGFO has been third party tested according to the parameters established by the Council for Responsible Nutrition ("CRN") and the World Health Organization ("WHO") for its potency and purity by IFOS under Consumer Reports.
The fish oil concentrate in A-M B-Well™ Omega-3 PGFO has been verified by the United States Pharmacopoeia ("USP"), the world's most highly recognized and technologically advanced pharmacopoeia. You can read more about fish oil by visiting www.anne-marie.ca/fishoil.html.